Are you looking for something to do with your family?  Soap Box Derby racing is an amazing way to build family memories and relationships through shared experiences and working together. Countless families have benefitted from working together to build a car, time spent tuning the car, traveling to races, and worKing together to compete at races during the season.  Communication is critical and strong memories are formed that will span the years as kids grow and parents reap the benefits of a strong family bond.
The All-American Soap Box Derby (AASBD) is an international youth gravity racing program dating back to 1933!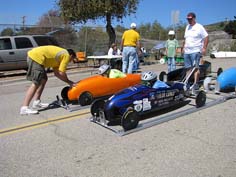 Soap Box Derby racing has changed a lot since the early days and is open to both boys and girl racers ages 7 through 19 years old.  The goals of the program have not changed since it began-—to teach youngsters the basic skills of workmanship, perseverance, and the spirit of competition.
The All-American Soap Box Derby
World Championship finals are held every July for both Rally and Local champions at Derby Downs in Akron, Ohio.  Complete history, information, rules, and all things "Derby" can be found on the All-American Soap Box Derby website at www.aasbd.org.   The All-American Soap Box Derby website also has a convenient online store with all the information you'll need to order racing kits and parts.  The rule book can be downloaded for your review, and the message board is a good place to learn about Derby racing.
Three Racing Divisions
There are three racing divisions to accommodate different driver ages, sizes, and experience.  The divisions are Stock, Super Stock, and Masters.
Stock Division:  For racers age 7–13 years old. A lean-forward design, stock cars can accommodate a racer up to approximately 5'3" tall and 125 pounds.
Super Stock Division:  For racers age 9-17 years old. Super stock cars, also a lean-forward design, can accommodate a larger racer up to approximately 6'0" tall and 160 pounds.

Masters Division:  Masters, also known as Scottie,  is for more experienced racers age 10-19 years old. A lay-back design car, it can accommodate a racer up to (approx) 6'0" tall and 160 pounds.
Rally Champions versus Local Champions
There are two ways to earn a chance to race at the World Championships in Akron, Ohio–Local Championships and Rally Champions.  Local Champions are winners of All American Soap Box Derby "Local" championship races held once each year in cities throughout California.  For a Local race city near you, please visit www.aasbd.org and search for he race closest to you.
Rally Champions are racers who have competed in All American Soap Box Derby rally races conducted throughout the Region and country.  Racers earn points for participation as well as for their finishing placement.  The highest point earners qualify to race at the World Championships.  Rally racing is a great way to get additional driving experience prior to racing in a Local Championship as well as a way to have a lot more fun with your car!
Pre-Owned Cars
Can we race a pre-owned car?  Typically, the answer is a resounding Yes!  Prior to purchasing a used car, we do suggest you contact us for more information or to see if we have a car you can try out.  There are some rule restrictions regarding the age of the car, prior championship history the car may have, and requirements with materials used, so it is best to check with us first.
Basic Physics of Soap Box Derby
The information in this document is opinion based upon years of SBD experience, understanding of the physics involved, currently approved SBD parts and 2007/2008 SBD rules.  The focus of this document is on the primary influences, conditions and setups that impact the speed of a SBD car.
Still Have Questions?
If you are interested in buying or building a car to go rally racing or have any questions about Soap Box Derby, please email our club president at the address below.
David Knapp
President California Family Soap Box Derby Association
David-knapp"AT"cox.net
949-243-5210